TLDR;


Google Bard and ChatGPT have different strengths. Bard excels at providing up-to-date news and precise information, while ChatGPT is better at summarizing content, generating code, and planning tasks. Bard's integration with Google apps and upcoming image prompt feature gives it an advantage. However, ChatGPT is more user-friendly and practical. Bard is more accurate, but ChatGPT covers a wider range of inquiries. Both tools have their merits, and the choice depends on specific needs.
Humans have big plans for harnessing the power of AI chatbots. Recently, Open AI launched Chatgpt for solving big problems in a few seconds. As Digital marketers, we are using Chatgpt for writing titles, creating a description, or even getting some cool ideas for keyword research.
But the past weeks changed the way of AI chatbots as Google publicly rolled out the 'Bard' for the general public.
Here we tested some results on Google Bard and compared them with the free version of Chatgpt;
1. Hey Bard, Tell me the latest news of today Vs Hey Chatgpt, Tell me the latest news of today.

Your content goes here. Edit or remove this text inline or in the module Content settings. You can also style every aspect of this content in the module Design settings and even apply custom CSS to this text in the module Advanced settings.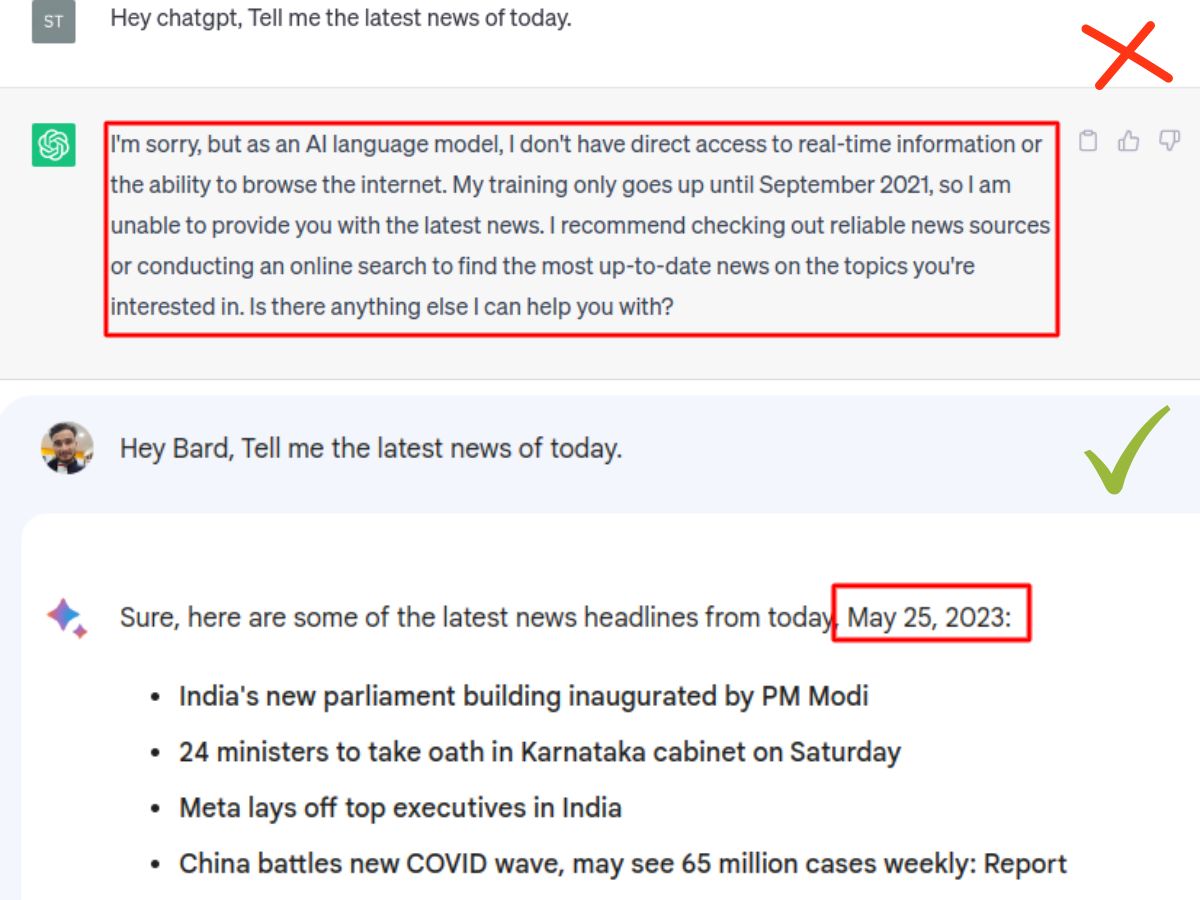 ; Here, it is visible that Google Bard can produce the latest and current pieces of information whereas Chatgpt's hands go up. But don't worry Chatgpt will give some catch in a few minutes.
2. Prompt: Summarise this;
"We have become accustomed to using social media daily. People use it to connect with others, share their experiences, and even shop through social media. With the rise of social commerce, businesses have a unique opportunity to reach a wider audience and increase sales and revenue. In social commerce, products, and services are sold directly to customers on social media platforms. It's a growing trend that has been made possible by the increasing number of people using social media and the rise of e-commerce. Businesses can reach a wider audience through social commerce. Social media platforms like Facebook, Instagram, and Twitter have millions of active users, and companies can use these platforms to connect with potential customers and drive sales."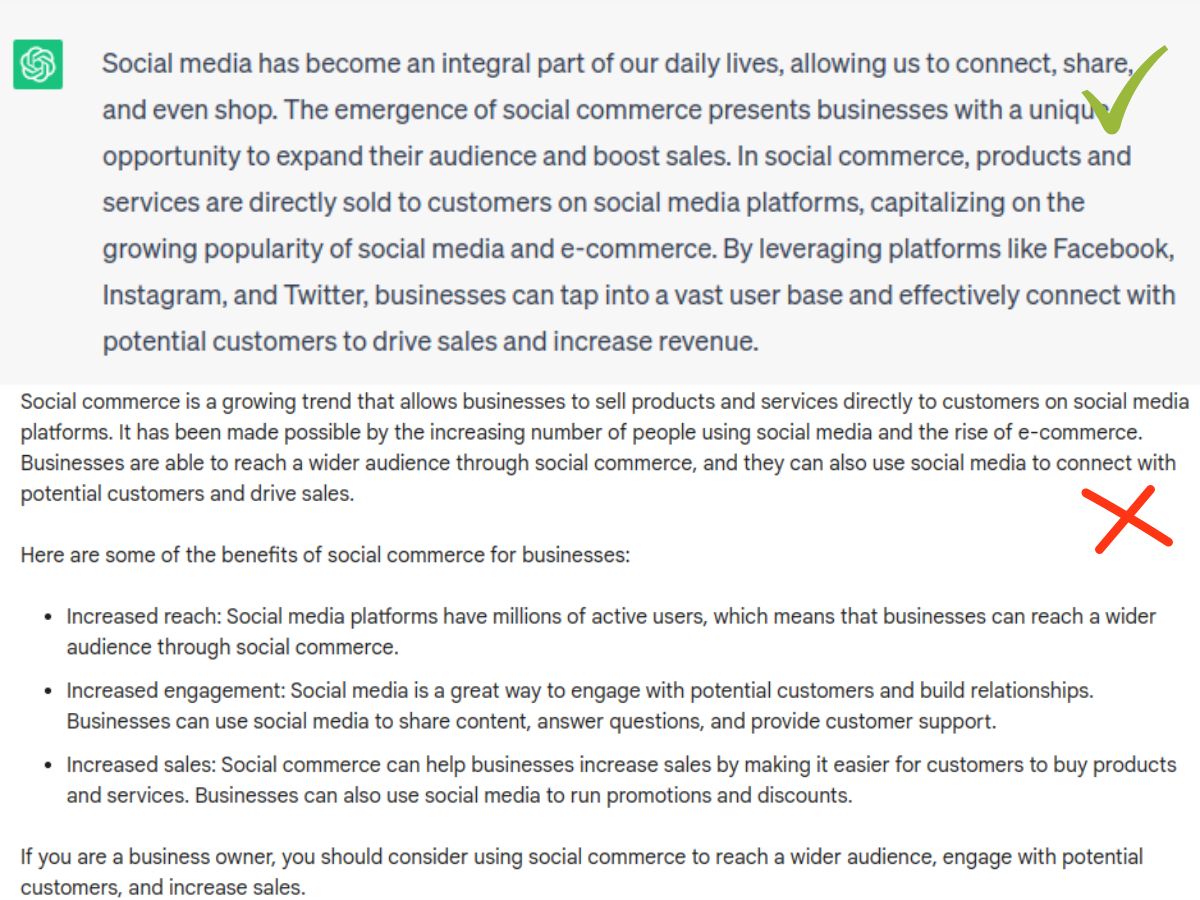 ; On this, Chatgpt results are better in comparison to Google Bard, I provided a simple paragraph from my other blog and command for summarizing this. And as expected, Chatgpt did its work very well whereas Google Bard just give us the explanation of this content.
3. Prompt; example of merge sort java;
; Both of these tools are performing very well while the situation is under developers. Chatgpt gives the best and most well-elaborated codes while Google Bard has a 'Draft' advantage where you can pick two to three similar versions that you never run out of missing information.
; Google Bard is very quick to generate the answers while Chatgpt gives some cool human typing experience while writing the solution.
; This thread is tied to both of the tools that are very suitable to solve your coding-related questions!
4. Prompt; "Plan my wedding in India for September month"
"Let me know the list of tasks and Budget of everything from catering, hall booking, list of hotels to book for a low-budget wedding, invitations cards etc. in the city of Chandigarh. Don't recommend a wedding planner."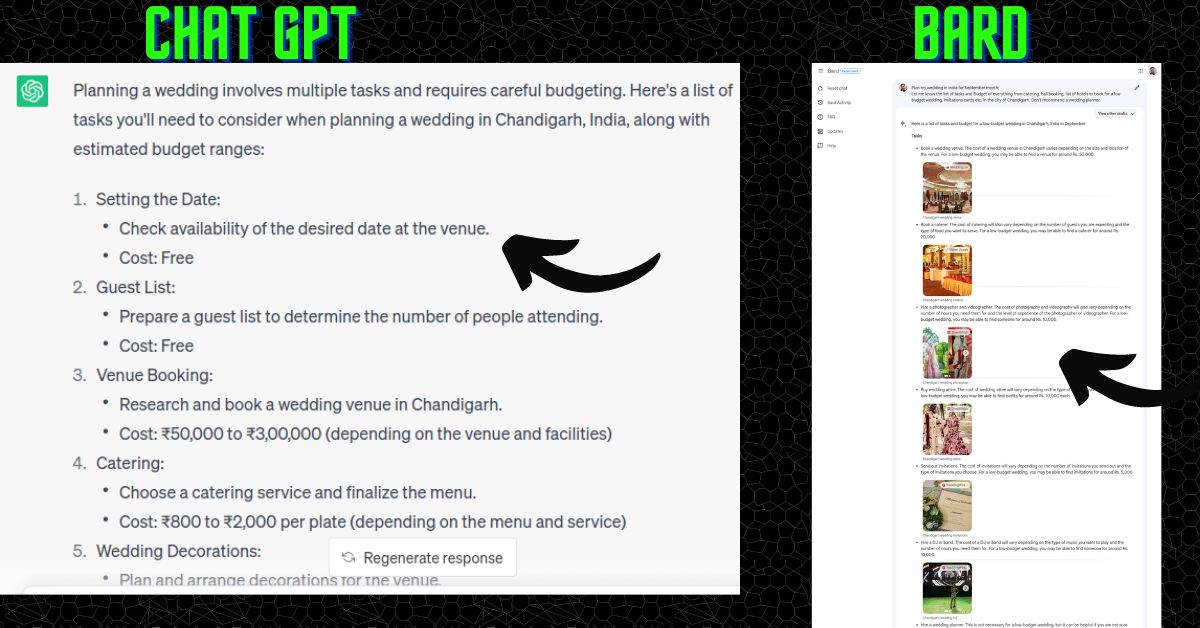 ; We feel that ChatGPT planned well and provide more planning materials to us. Whereas Bard misses out few things that should be included and important for wedding planning. But ChatGPT didn't do well with low-budget planning. It doesn't provide satisfactory planning for a low-budget wedding. So we think that Bard wins here because it planned according to low-budget what we needed and gave us the estimated expenses.
5. Prompt; "Can you match kundali"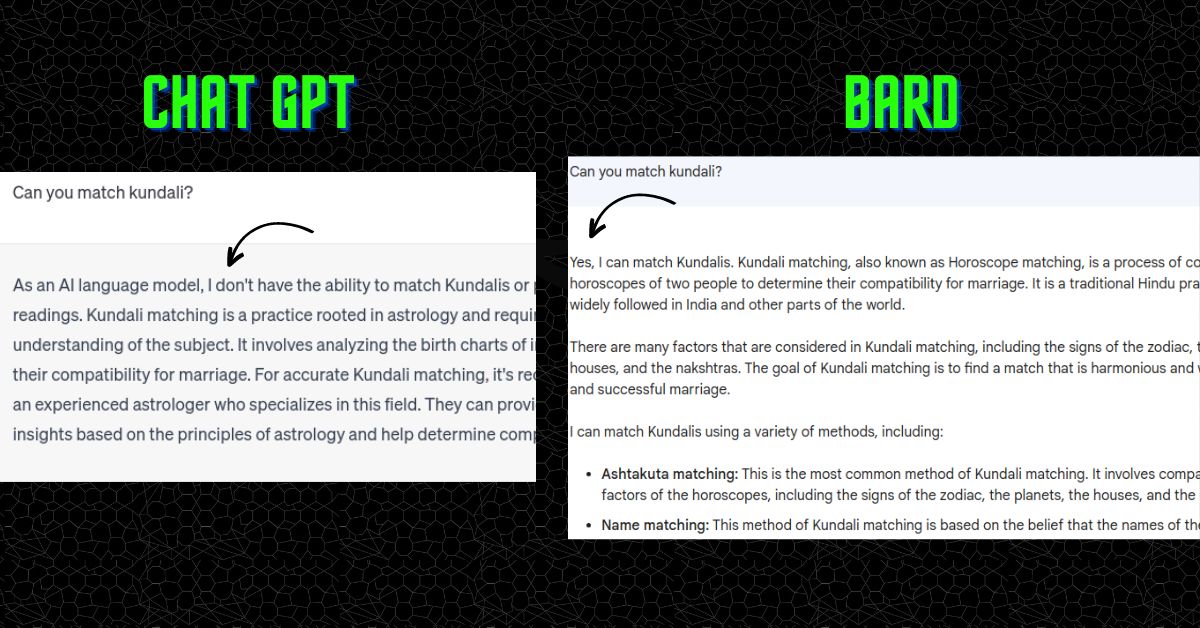 ; Google Bard can match us with our favourite one. But ChatGPT clearly says no to matching our kundali. Here Google Bard clearly wins.
6. Prompt;
"I want to know what is the best product to sell in USA and UK from India? (Import and Export) Need a Business plan. Also mention, how much money I can make with those products that u suggest and how much initial investment I have to make."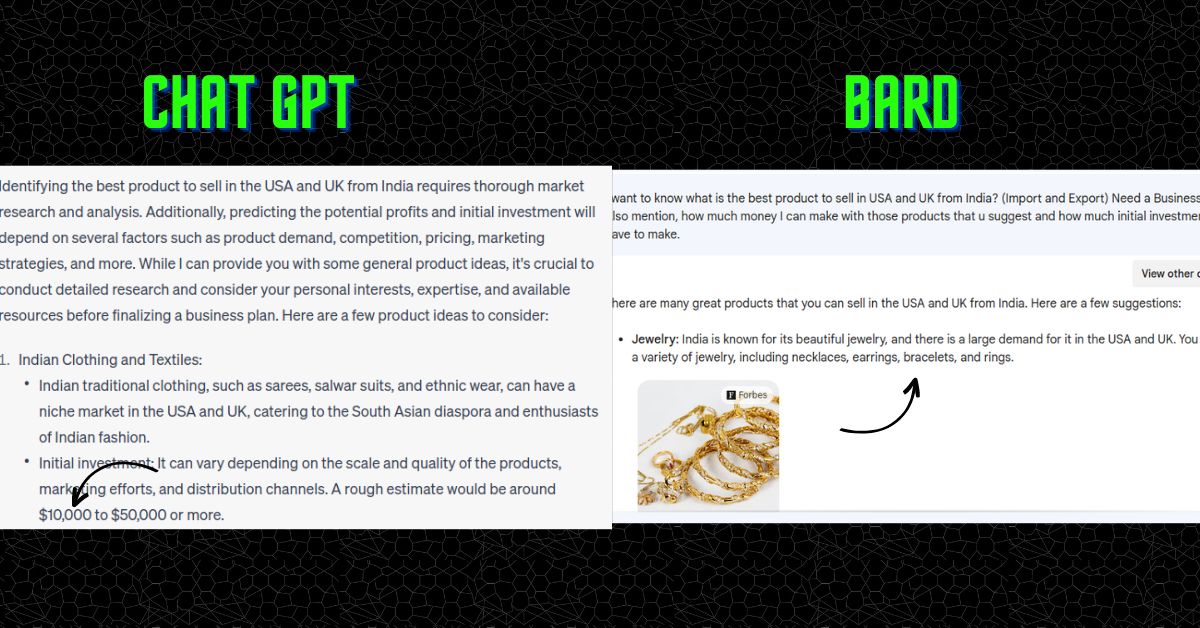 ; We asked a very typical question with both of these tools. Here, Google Bard clearly loses to Chatgpt because it doesn't provide us with what we want in our prompt. At the end of the prompt, we asked that you "Also mention, how much money I can make with those products that u suggest and how much initial investment I have to make.' But it doesn't provide us with the investment amount whereas Chatgpt give the proper answer with the investment amount.
Now it's time to check the accuracy of the content;
As we know that Chatgpt is unable to provide information after September 2021, so we are going to ask questions that happened before September 2021. It might be interesting;
"Prompt; How much youtube paid for creators in 2019?"

; I asked a very simple question 'How much youtube paid for Creators in 2019'. Where Chatgpt denies saying YouTube doesn't publish any exact number or gets help from somewhere else but Google Bard gives the clear amount that is paid to creators.
; In many prompts, I feel that the Google Bard is much more prominent to provide the information more accurately and more precisely. This is because of the integration of Google Bard with Google Search. It always provides the best figures, statistics or even accurate numbers of information. ChatGPT denies giving relevant information many times, but Google Bard will never make you sad.
; While Google Bard often fails to generate sufficient information or denies providing answers to our queries, ChatGPT steps in as the ultimate solution. Unlike its counterpart, ChatGPT possesses the remarkable ability to address a wide range of inquiries, even those that Google Bard struggles with. Say goodbye to unanswered questions and welcome ChatGPT, your reliable companion in navigating the realm of knowledge. 
How can Google Bard Kill ChatGPT in future?
Bard will be able to analyze and integrate into various Google apps, like Gmail, Docs, maps, Sheets etc. E.g., if you like to use the same table in your Google sheet that was generated by Google Bard now it will be possible with Bard. You can use the same table without copy-pasting or manually filling in the data in Google Sheets.
One of the most crawled features by users is 'Image Prompt'. Some rivals are lacking to provide image features using AI but now Google has announced that Soon Bard will be able to generate text information by uploading the images on Google Bard. For example, you will be able to upload an image of a specific car and Google Bard will give you the right information about the car such as Brand name, specification, price etc.
Google partnered with Adobe Firefly which will lead users to generate AI images with Bard. If you don't know about Firefly here is a Quick introduction;




Adobe Firefly is a cutting-edge platform developed by Adobe that provides a comprehensive suite of generative AI tools tailored specifically to cater to a diverse range of creative needs, use cases, and workflows.
Winner of the Race!
ChatGPT is useful according to our experiences and testing. However, ChatGPT lags behind Bard in terms of variety of detail and more accurate information. Nonetheless, ChatGPT provides the best practical use-case scenarios for humans. This tool can provide you with the best data that can be understood by people of any age. We believe that ChatGPT always strives to give the best possible answer in a single attempt. Simply put, it is a human-friendly tool that allows humans to interact and convey their ideas through ChatGPT. Google Bard is also proficient but needs to incorporate better algorithms, especially for users who expect precise answers.
Are you looking for Web Development or Online Marketing services? Request a free quote for professional AI-assisted Digital Marketing or Web Development Services to boost your business growth and visibility in this Artificial Intelligence era.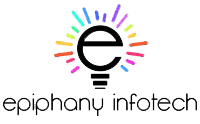 We are a Website Development, WebApp Development, and Digital Marketing Company, providing services to enterprises of all shapes and sizes, across the world. In our blog, we talk about the latest in Tech, Technical Tutorials, and our general opinions, among other things 🙂 Please feel free to reach us through the comment box or via the contact us page if you'd like to know more about our services.